This is a little bit late, but I wanted to write on here anyways (especially since I blogged my acceptance into the program and the first day of classes).  Also, I can write this now, as the official commencement at KU was yesterday.
I've finished the Edwin O. Stene Master's Program in Public Administration (MPA degree) at the University of Kansas, and I recently was hooded.
Here are a couple of pictures from the graduation banquet: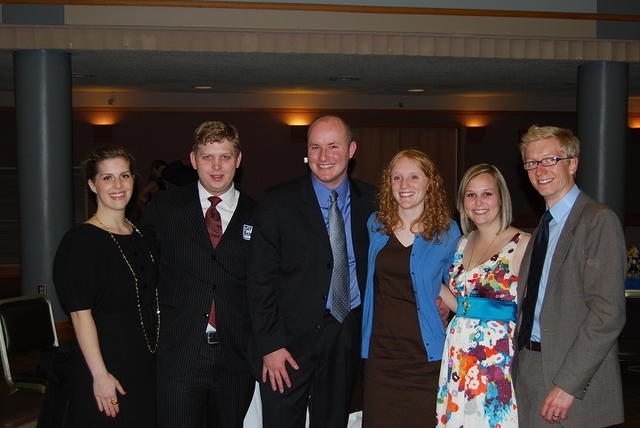 I started this program 2 years ago, having never been to campus before I accepted and having never lived outside of the State of Georgia.  I applied on the recommendation of a mentor and professor at the University of Georgia, and I was accepted to the program (just barely).
I've moved to Kansas, been to Richmond and Montreal for ICMA conferences, made many new friends (who I already miss), worked in new places (the Unified Government and Jefferson County), found a job in and moved to Colorado, and become engaged (and getting married in a month).  These have been a grueling, but refreshing, two years for this fresh-out-of-undergrad guy from Georgia.  And I can't believe it is already over (but really, the journey has just begun).
It still seems like just yesterday when I was sitting in that classroom in Blake Hall, listening to Professor John Nalbandian (pictured above, hooding me) as the tornado sirens went off outside on that first day.  Wow.
Other updates will be forthcoming (I have a job!).